Citizen Vintage Retro Ana-Digi Temp Unisex Gold Plated Watch JG2103-72X
Regular price
$416.00
Sale price
$341.00
Save 18%
/
---
Introducing the Citizen JG2103-72X: A Unique Blend of Analog, Digital, and Chronograph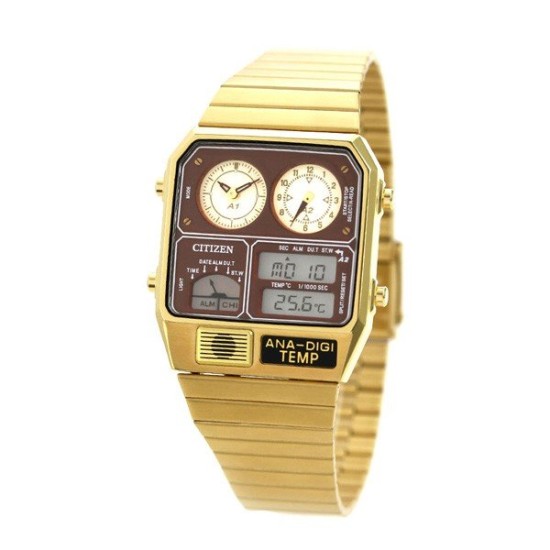 Step into the world of uniqueness and trendiness with the Citizen JG2103-72X. This extraordinary timepiece from the renowned Citizen Collection pushes the boundaries of traditional watch design, offering a one-of-a-kind blend of analog and digital features. Embrace the fusion of style and functionality with this remarkable watch that sets itself apart from the crowd.
Make a Statement with the Citizen JG2103-72X
Embrace your individuality and make a bold fashion statement with the Citizen JG2103-72X. Its unique blend of analog, digital, and chronograph features sets it apart as a truly distinctive timepiece. From its captivating design to its impressive functionality, this watch embodies trendiness and versatility. Experience the perfect balance between uniqueness and style by adorning your wrist with the Citizen JG2103-72X. Stand out from the crowd and showcase your personal taste with this extraordinary timepiece.
A Captivating Fusion of Analog and Digital
The Citizen JG2103-72X showcases a captivating combination of analog and digital displays, creating a striking visual appeal. The analog dial features sleek hands and index markers that effortlessly glide across the dial, indicating the time with precision. Complementing the analog dial, the digital display adds a contemporary touch, providing additional functionality and convenience.
Impressive Chronograph Functionality
Designed to meet the demands of modern lifestyles, the Citizen JG2103-72X boasts an impressive chronograph feature. With its 1/1000-second measurement capability and a total of 12 hours, you can accurately track time intervals and keep up with your active lifestyle. Whether you're timing your workouts or monitoring your personal bests, this watch delivers exceptional performance.
Unmatched Versatility and Convenience
The Citizen JG2103-72X goes beyond telling time. It offers a range of convenient features that cater to your daily needs. The watch includes a date display for quick reference, allowing you to stay organized effortlessly. With the 12/24-hour display switching function, you can easily adapt to different time formats, while the dual time function enables you to keep track of two time zones simultaneously. Additionally, the watch provides an uncensored function at the end of the calendar for seamless operation.
Uniquely Stylish and Durable Design
Crafted with meticulous attention to detail, the Citizen JG2103-72X stands out with its distinctive design. The stainless steel case and bracelet exude a sense of modern elegance, ensuring both durability and style. The crystal glass adds a touch of sophistication while protecting the watch from scratches and daily wear. With its versatile black dial and luminous hands and markers, this timepiece effortlessly combines style and readability.
Specifications and Warranty
Brand: Citizen
Series: Citizen Collection
Model Number: JG2103-72X
Release Date: November 2018
Case Material: Stainless Steel
Band Material: Stainless Steel
Glass Material: Crystal Glass
Movement: Quartz (cal. 8989)
Size: H 35.5mm x W 31.5mm x T 8mm
Weight: 53g
Around Belt Arm: Approximately 13.5-20cm
Warranty: 5 Years
At Fargo Time, we understand that receiving your purchase quickly is important to you. That's why we make every effort to process and ship your order within 1-2 business days.
For our Canadian customers, delivery times typically range from 2-7 days. For our US customers, delivery times are estimated at 7-10 days. And for our international customers, delivery times are estimated at 7-14 days.
Please note that these are estimated delivery times and may be subject to change due to unforeseen circumstances. If there are any delays in your shipment, we will notify you via email.
We ship from our location in Mississauga, Canada. Please note that for orders shipping to the United States and internationally, customers are responsible for paying any duties and customs fees.
If you have any questions about your order or shipping, please don't hesitate to contact us at support@fargotime.com. Our customer service team will be more than happy to assist you.
At FargoTime.com, we take pride in offering our customers the highest level of service and support. That's why we provide a standard 2-year warranty on all of the brand name watches sold on our website.
Our warranty begins from the date of receiving the watch and covers any issues related to the timekeeping of the watch, such as gaining or losing time. However, please note that our warranty does not cover external damage to the product.
We understand that accidents happen, but please note that our warranty does not cover any damage resulting from water or moisture damage, wear and tear, or damages to the watch case, crystal/glass, watch bracelet/band, watch bezel, straps, screws, crown/stem, finishes, clasps/buckles, or any other physical damage to the watch. Additionally, any damages that occur as a result of having the watch serviced by a third party will void the warranty.
It is important to note that our warranty also does not cover any damage if the watch is used under conditions that exceed the manufacturer's water resistance guidelines. Furthermore, any lost or missing stones or gems on the outer portion of the watch or watch face, outside modifications, and third-party repair attempts will void the warranty.
We appreciate your trust in FargoTime.com and want to ensure that you are completely satisfied with your purchase. If you have any questions or concerns regarding our warranty, please do not hesitate to contact us. We are here to help.